UPDATE
Voting is open until August 30th at midnight (UK time)!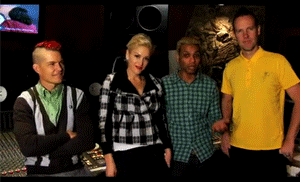 Yay! We would like to announce that Beacon Street Online (BSO) has been nominated for Best No Doubt Website at the annual NDC (No Doubt Community) forum Awards! Thank you to everyone who voted us in to be nominated, this is a HUGE honor! We actually picked up the title for the last two years, and we feel very blessed to be up for the award again! Working on BSO is a lot of work, and it's really awesome to be recognized over the years. Thank you again to everyone who has voted for us! In order to vote, follow the link below, login if you're a member (if not, join the cool forum!), and send a private message to "Forum Awards 2011" (the directions on the forum explain it a little better then me). Thank you and good luck to all of our friends and fellow nominees!
HOW TO VOTE:

You can vote for one nominee in each category (in some categories, pairs of forumers are nominated as a single nominee).

Send your list of nominess beside the category they are nominated in, in a PM to Forum Awards 2011.
Thank you again for all your votes and hopefully we can take the title home again! We have some pretty stiff competition, but appreciate all the support, and will keep serving the wonderful No Doubt community! (Psst, I'm also nominated for a few awards myself, and if you would like to vote for me, my name is bathwaternxd on the forum. Yay!)